Krist Perawat Sangpotirat | Family | Childhood and Early Years | Khun P and Yuyu | Into New Decade | More About Perawat | Discography | Filmography | Awards | Endorsement | Shows | Fancams and Subs
"KRIST" Perawat Sangpotirat
Born as Perawat Sangpotirat on the 18th of October 1995, also known as Krist, he is one multitalented young man from Thailand. He used to be called as 'Kit' but it soon changed to 'Krist' by his professor during his exchange program in New Zealand during highschool. In the recent year Krist has claim his spot in 100 Asian Heartthrobs nomination and The 100 Most Handsome Faces 2019 nomination. In Thailand entertainment industry, Krist Perawat is no stranger as he already involved in commercials and local series since young. This middle child is a good musician and a singer songwriter alongside that. Krist Perawat can be said as a round up artiste with talents as his talent is not limited to the entertainment department but expand to cooking as well.
The success of his series entitled, Sotus: The Series back in 2016 paved the way for his breakthrough in the entertainment industry in Thailand. Up until this very day, his fandom is spreading like a wildfire covering not only Thailand but reaching Malaysia, Indonesia, Singapore, Japan, Korea, China and even America and Europe.
Family
Krist is the middle child of Mr. Jack and Mdm. Nantana. He has one older brother, King Sorawit Sangpotirat and a little sister, Kat Pornpawee Sangpotirat. Unlike their middle brother, both are not interested in entering the entertainment world. As mentioned by Krist himself, he is coming from a very warm extended family. His endeavor in the entertainment field is not only getting full support from his parents and siblings, he is also being supported by his grandparents. Krist Perawat used to have a dog called Jetaime but died few years back. He claimed himself a dog person and as for feline, he doesn't hate them and always wanted to have one but being allergic to the fur keeping him from having a cat. However, that doesn't stopping him to adopt a 2 months old Sphinx which he named as Pluto. This new member of the family was having his debut to the public during Krist's session for Live At Lunch with Krist on April 2nd, 2020. Pluto was born on Januay 29th 2020. He is one cuddly and sleepy cat and very clingy to Krist. With the intention of giving Pluto a company at home, Krist decided to adopt another cat. This time he chose a short-legged breed cat. On April 20th, 2020; the new kitten was made public. She is Muffin. According to Krist, despite being small Muffin is one fury fluffy ball who always bullying her brother, Pluto. As days go by, the siblings are getting along together. They are not only just pets but they are part of the families for Krist and he said that he is obsessed of his two feline company.
Childhood and Early Years
Being the middle child, Krist said he was one stubborn and persistent child. Once he set his mind on something, it was always hard to change it. So, his parents always let him do what he wanted. When talk about family, Krist view his family as loving and caring. They are very close to one another that there is no secrets between them. Nevertheless, no matter how close you are with your siblings, fight is bound to occur. This applies to Krist and his brother as well. When he was a kid, he got into a fight with his brother which ended up him having a scar adorning his cheek. The scar still can be seen until today and instead of flawing his look, the scar rather enhance it. Despite his delinquent and cheeky look, he is an obedient child and he respects his parents so much. Krist's father enrolled him to music class when he was young with the intention of having him learning guitar. However his interest was more on playing drum but despite that he didn't opposed his father. Because Krist loves playing drum so much, he can easily learn and catch up with the lesson. For this reason, his teacher told his father that Krist could play the drum better and later he went to playing the drum for his music class. Krist always said that his family and his parents are persons who he will always look up to in his life even in making decision especially for his career. In considering of any series offered to him, he will always first consult with his parents before accepting any roles.
Khun P and Yuyu
Krist always says that it is unbelievable for someone like him to have a fanclub. One of the greatest thing that ever happened to him is having supporters. Most of the fans are the one that has been following him since his pre-Sotus debut era and they are still committed and supportive till now and that fact feels like a dream to him. One can see his adoration towards his fans each time he talks about them. This even supported by his colleague.
Krist's fandom has one unique name which is YuYu. This name naturally chosen as Krist loves to address people (including his fans) using 'yu' (you). Another unique thing about this young lad is, he is also known as Khun P and 'turtle' in the fandom. The sobriquets used between Khun P and his Yuyu show how much they are meant for each other. One can see how close he is with his Yuyu. He can casually requesting for foods during gathering or events and complaining like a little kid with his Yuyu and his fans are more than willing to spoil him rotten and being a mom for Krist.
Despite having a tight schedule, Krist always try his best to spend some times with Yuyu. He will make times to talk with his fans even if it is for a short and quick meet up. Most of the time, the gathering will be done at the airport when Yuyu welcoming him back from abroad or done after any events attended by Krist. Sometimes, Krist will arrange an impromptu meet up at GMM Building or any place available. Because this happened often, he ended up created a tagline for his gathering with Yuyu which is 'coffee date' with the hashtag #ที่มาเพราะกาแฟหรือแกฟ้ะ. Not only that, another tagline that he created is 'traffic jam' and it means that he will do an IG live. The up close and personal interaction between Khun P and Yuyu makes everything special and the bond becomes stronger. For Krist Perawat, his fans is his power bank the one that give him energy when he feels tired and for his fans, Khun P is the one charging them up. It is such a heartwarming reference that he use for his fans and 'power bank' actually work two ways; Yuyu powered by Khun P and vice versa.
Into New Decade
The Golden Song MC
Not only in acting and singing, recently Krist also widen his career to emceeing, not just a regular pop show but a legendary music show titled The Golden Song Thailand season 3 which acquires him to work together with national MC Mr. Kluea. This program started at November 8th, 2020 on channel One31, showcasing Thailand's golden old songs bringing people back to good memories. Thanks to this program, Krist gained more popularity not only youngster but also among senior citizen.
New Project & Sun St.
On 1st of April, GMMTV was launching their new project called Boys Don't Cry. This project is including 9 male artistses including Krist Perawat. The concept of the project is each of them will release 1 song portraying heartbreak and displaying how men too could cry. Krist Perawat is the first to release his song entitled 'ขอโทษที่ยังร้องไห้ (Missing)' and released the official MV. Upon the released of this project, fans were being informed about the production behind his song. ขอโทษที่ยังร้องไห้ (Missing) was written, composed and produced by Sun St. (studio) which is his own production, co-owned with his friends. This news was received with pride from his fans hoping that he will keep spreading his wings wider in the industy to pursue his dream.
More About Perawat
Contrary to his nickname, 'turtle', he hates greens the most. He doesn't like to have vegetables in his meal. The only exceptions are spinach and cabbage. Krist loves fried chicken so much and there are plenty of occasions whereby you can see he is munching on his fried chicken at any time possible. Besides having fried chicken as the love of his life, this big baby also loves to eat popcorn. There was one moment when his manager warned the fans to not give him popcorn or else he won't stop munching them. However, when he started his 'BetrMe' channel, Krist begins his challenge to a healthier diet together with Khun Wave Khoo. In order to promote a better living, they come out with a channel called "KristPWaveKhoo' YouTube channel.
Yuyu regards this turtle as 'sunshine' because this man is one that we can call a happy pill and that must be the reason why he prefers to have company wherever he goes. He is a social butterfly and an easygoing man who will definitely brighten up the crowds and break whatever size of ice there is with his bright and humorous character. However, one of the days you might find him being quiet and not being his usual 'sunshine ball' self. The only reason for this could be that he is tired and drained and at times like this, he needs his 'power bank' in the form of his Yuyu, to get recharged.
Being one bright sunshine and a happy pill, Krist Perawat is someone who can't stays still. So, you might see him always dancing without caring much about where he is at that moment. He loves dancing so much he could just make a move literally just everywhere. During his school days, he joined a dance group and did a cover for Mirotic, an iconic song by a Korean legendary boy group, TVXQ and during that time, Krist covered for Max Changmin's part in Mirotic. Krist also did a cover dance from Loveshot by EXO.
Krist graduated from Kasestart University in 2017 from an Economy major. He chose Economy as his major because he thinks that this field has a vast job opportunity. Besides, this man loves to do counting and he proved it when he graduated with good grade. During his senior year, he was a hazer and his core duty was to facilitate with junior's orientation. According to Krist, blessed with cute and adorable look made it tough for him to be a hazer because his juniors were not afraid of him and he needed to raise his voice to give the commands.
▶ Discography
2018
2019
2020
2021
▶ Filmography
2008
2009
Feun Fu Silatarm (as Wuti)
2015
2017
2018
2019
2020
2021
▶ Awards
2016
Council of Arts and Culture- Chulalongkorn University
2017
2nd World Top Awards: Person of The Year
5th YinYueTai V Chart Awards: Recommended Artist of YinYueTai
Maya Award: Best Rising Actor
14th Kom Chad Leuk Awards: Most Popular Actor
Kazz Awards Favourite Star: Male Most Popular New Actor
2018
Daradaily Awards: Best Male Rising Star
2019
Maya Awards: Male Favourite, String Singer Award
2020
KAZZ Awards : Best Male Actor
ZOOM DARA Awards: Breakthrough Performance Act
2021
ZOOM DARA Awards: Show Hosting of the Year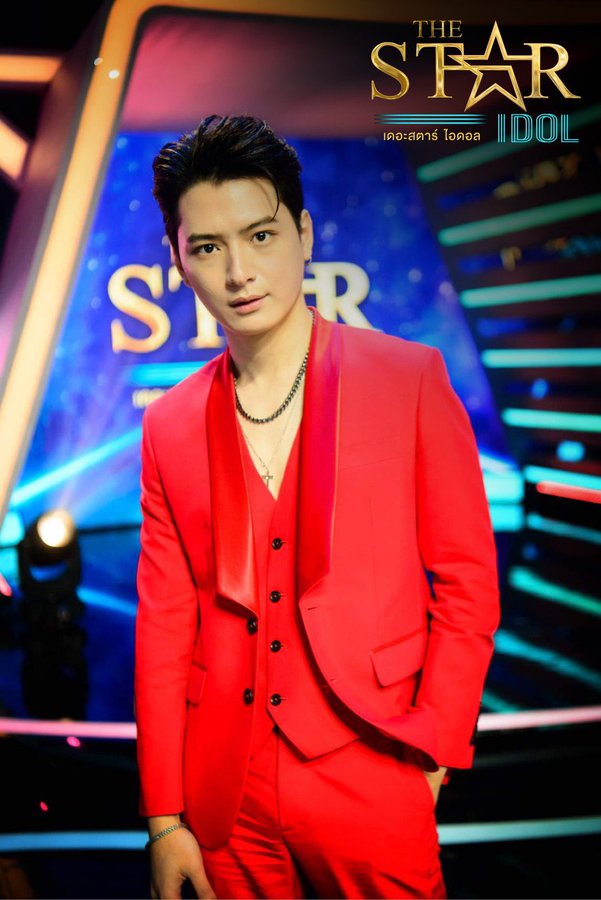 ▶ Endorsement
Krist Perawat Sangpotirat, having good looks with soft and cute features yet handsome and also a sunny bright human has landed him to few brand endorsement deals. The deals that he sealed ranging from beauty products, electronics to foods and even games.
Baby Bright: Watermelon & Tomato Matte BB Cream
Baby Bright: Red Wine Cover Pact
Lays Thailand: Lays Cheese
Lazada Thailand
Oishi Thailand: Oishi Drinks (Orange)
Oishi Thailand (ROV Game)
Oishi Club
Tesco Lotus Express
OPPO F5
OPPO R9S
Mere Megu Soft Wash with Ceramide
MINMIN Candy Fresh
IDOLO Ma Kiss Lip Gloss
▶ Shows
2021
2020
2019
2018
2017
2016
▶ Fancams and Subs